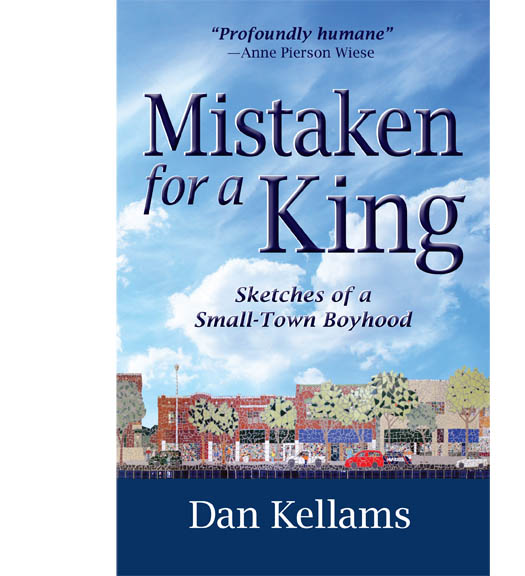 About Mistaken for a King
Mistaken for a King lovingly evokes the life of a small-town boy in the middle of the last century. In a series of finely honed and often funny sketches the author recounts events that occurred mostly between the ages of five and twelve, recalling an era when little kids had the run of the neighborhood, and, later, riding bikes, could explore an entire town and the surrounding countryside. It was a time children "were almost as free as sparrows," to quote William Maxwell.
In a book that "sings with crisp wit and gentle wisdom" (poet Anne Pierson Wiese), Dan Kellams revisits his old neighborhood in Marion, Iowa, takes readers on a tour of an elementary school during the 1940s, and explores such town treasures as the movie theater, the popcorn stand in the park, the swimming pool, and the root beer drive-in, where he "perpetrated a bitter cruelty on a hot summer afternoon."
He writes about gun ownership—toy guns, cap guns, BB guns, and real guns—at a time during World War II when most boys expected to grow up and fight for their country. Kellams tells delightful stories about his dog, Spike, who grinned, about glorious summers at camp, where he swam in the muddy Wapsipinicon River, and about a fourth-grade year in a tiny village, where he was smitten by a girl who ignored him and where he might have been mistaken for king.
Kellams also recalls the tribulations of being a newspaper delivery boy and the joys of discovering sports through the culture of childhood in backyards and pickup games—instead of through organizations created by adults.
In almost every chapter (there are twenty-eight), something happens that would never happen today.
"Dan Kellams situates the reader in the very stuff of an American experience," wrote author Ben Miller. "Many of the portraits will make you laugh," There are profiles of his parents, patiently dedicated to their two sons, and recollections of such local characters as Old Lady English, who hated to see kids in her yard; Harley Breed, a cigar-chomping barber; Snake Palmer, serpent-catcher extraordinary, and Charlie Carrington, who flooded an entire business district with the seductive smell of popping corn.
"Although the book is about the life of a boy—a rather shy boy—it is in many ways a tribute to my parents," Kellams says. "They granted my brother and me a great deal of freedom to pursue our interests and supported us even when they didn't approve of the directions in which our whims took us."
Can a happy childhood make a good book? "Children and adults will enjoy [Kellams's] stories and treasure his words," wrote Jim Ecker, president of Metro Sports Report.